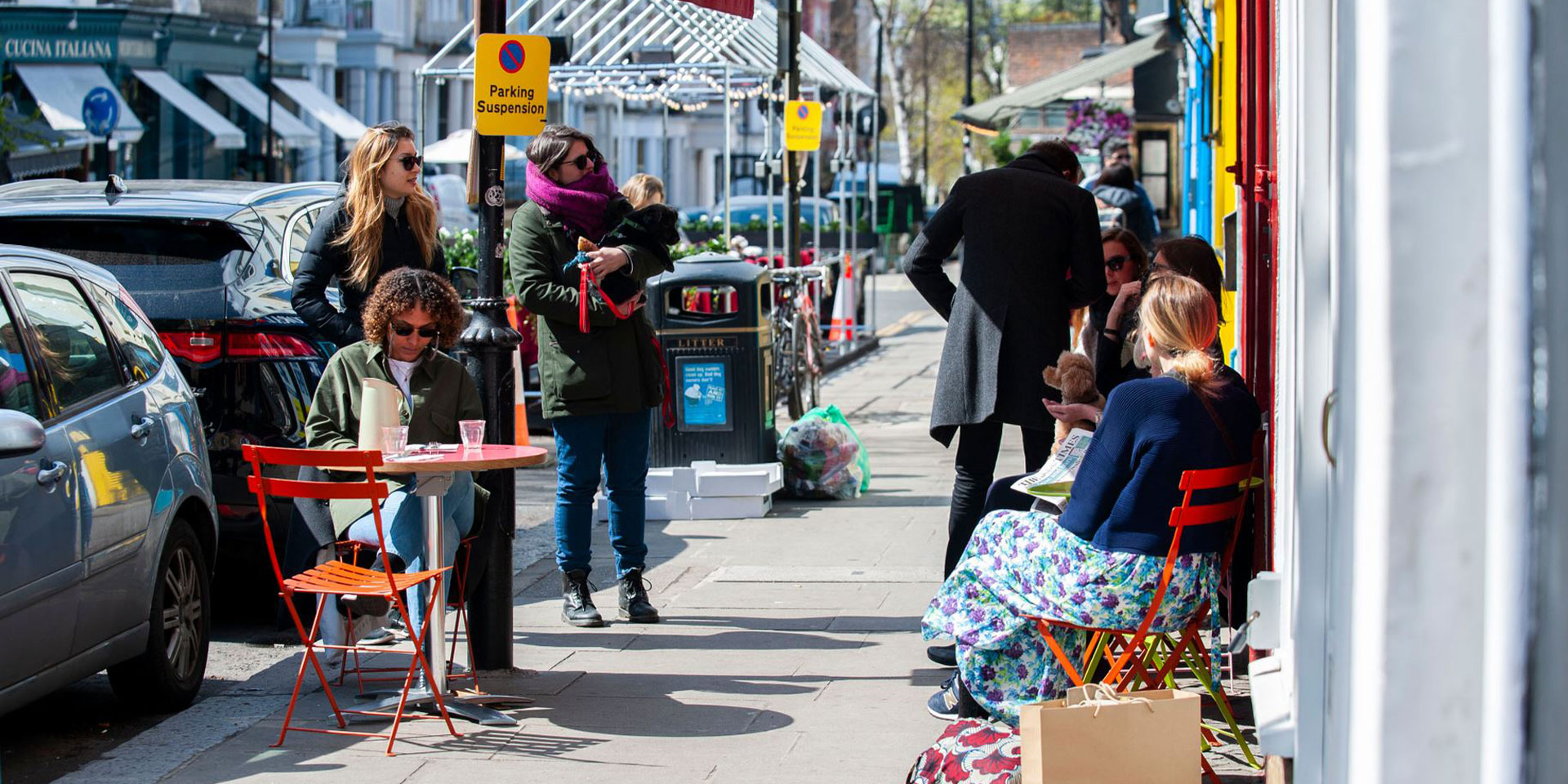 About Kensington & Chelsea
Kensington and Chelsea is a place like no other in the world. An inner London borough that offers an extraordinary mix of cultures, a vibrant economy and a rich heritage.
Leader, Cllr Elizabeth Campbell, explains:
"It is hugely diverse. Both in terms of the people and the institutions. The borough is home to some of the best museums in the world, the majestic Kensington Palace that gives it its Royal status, and the iconic Portobello Road. And while it may also be home to some of the world's most expensive properties, they sit side by side with some of the most disadvantaged areas in England.
"While there is culture, heritage and history, we are also concentrating on modernising and delivering for residents. "Our culture is one where we want to serve our community. We are very much led by the community – we ask them what their priorities are and we work out how we can deliver them. Where we can't, we are honest with them, and work with people to find solutions to problems.
"We are modernising and we are ready to embrace the digital revolution. We are really doing this across all our services, we want to be the best council in the country. That is our ambition.
"One of our main priorities – like everywhere – is recovering from Covid-19. For us it had a double impact because some of the places in the borough where it has had the biggest impact are the same places where people were already trying to recover from the impact of the Grenfell Tragedy in 2017. Grenfell remains this Council's number one priority, it always will, but there are challenges for communities right across the borough.
"This is a place like no other in the world, and a really exciting place to come to. I am looking for someone who will drive us forward, not just up to the job, but up for the job. We are looking for someone who can connect with our communities, deliver the services they want and accelerate us as a modernising council."
Our Values
Our organisational values are putting communities first, respect, integrity and working together. These values underpin everything we do and support us to deliver the Council's priorities.
Our priorities
Our cross-cutting themes and five priority areas are of even greater importance given the impact of the global pandemic and the values and priorities of our residents.
Grenfell recovery
Making Kensington and Chelsea a great place to live, work and learn
Safeguarding and supporting vulnerable residents
A Healthy, clean, safe and sustainable borough
A place of culture to visit and explore
Cross-cutting themes
These are the three themes which underpin our priorities.
Community involvement
We continue to improve how we involve our communities in the decisions that matter to them. This includes our work with those most affected by the Grenfell tragedy; our forums for directly engaging with users of our services such as our tenants and leaseholders; our development of a new approach to partnering with our faith, voluntary and community organisations; and the launch of our representative Citizens Panel. During the pandemic the great civic spirit of our residents shone through, and so we will continue to work with them to create opportunities to enhance civic life thorough initiatives like City Living and Local Life and the Community Leadership Programme.
Narrowing the gap
We will focus our resources and efforts on those who experience the worst outcomes, as we look to mitigate the disproportionate impact of Covid-19 on residents from disadvantaged backgrounds. We have made a commitment that equality, diversity and inclusion will be at the centre of our decision making and service delivery. We will review evidence and make the best use of local opportunities by connecting different communities together to help each other and themselves. We will work to narrow the gap for those with the most urgent and pressing need, such as young people and those from ethnic minority and deprived backgrounds.
Prevention and early intervention
The need for increased and effective prevention and early intervention has been highlighted and compounded by the pandemic. To genuinely support the longer-term resilience and wellbeing of our communities, we will use evidence to focus our efforts to have the best impact and prevent needs from escalated. We will build on people's existing strengths instead of focusing on challenges, to promote independence and help communities to support themselves and thrive.
Equality, Diversity and Inclusion
Our approach to equality, diversity and inclusion is integral to everything we do as a Council, whether it is in how we work with our residents, in the services we provide or through the recruitment of our workforce. Our commitment goes beyond complying with our statutory duties. It is about the Council and our partners actively removing barriers and supporting individuals and families to reach their fullest potential. We want to advance equality of opportunity, foster good relations in our local community and ensure that everyone feels valued, respected and included.
Finances
The Council currently spends £433m of day to day running costs to deliver services to the borough's residents, business and visitors. This excludes the £121m of housing benefit we administer on behalf of Government and the £77m that is passported to schools through the Dedicated Schools grant. Spending next year will also include £237m of capital investment into homes, highways, the environment, open spaces, schools and early years provision. This is on top of over £300m we will be investing into the Council's housing stock through the HRA.
Community Engagement
The Council is committed to involving residents in influencing the Council's priorities and activities.  The Council's Charter for Public Participation sets out how local people can get involved in Council meetings and influence decisions, and in the development of policies, plans and services that affect them. Through the Charter we aspire to inform, consult, involve and co-design or co-produce with local people. Our Citizens' Panel, a large, demographically representative group of 2000 residents from across the borough are also regularly invited to give public preferences and opinions informing Council decision-making. Panel membership is broadly representative of the borough to ensure a diversity of views are heard by the Council.


Grenfell Recovery
The Grenfell tragedy continues to have a profound impact on the bereaved, survivors and those affected in the local community. Alongside the grief and trauma that many people face, there is the additional impact of Covid-19, ongoing uncertainty around the future of the Tower and the continued pursuit of justice through the Grenfell Tower Inquiry and the criminal investigation. The fifth anniversary of the tragedy in June 2022 will also be an important milestone for the bereaved, survivors and local people.
Housing
The Council has begun an exciting and ambitious seven-year programme to improve their homes across the borough and make them a better place for our residents to live. Financially, we have currently committed £374m to the project. Our focus is to carry out works that address health and safety issues first, followed by exterior building such as roofs, windows, walls, and balconies, as well as mechanical and electrical work such as boilers and door entry systems. We are also placing a strong focus on sustainability measures to make our homes future-proof and energy efficient while working with residents to make all this possible. 
What we are currently doing
Since 2019:
Grenfell recovery
We have established a Dedicated Service for those who are bereaved and survivors from the tragedy, working in partnership with them to provide tailored and personalised support.

 

Over 1500 people are reached monthly via the Recovery Programme and we have continued to provide targeted support for children and adults in the local community.
Residents are leading decision-making for local projects through participatory budgeting, with £0.7m allocated to 56 community projects in 2021.

 

We have adapted and increased this support in recognition of the additional impact of Covid-19 and are delivering services and initiatives for the local community in new ways.
A great place to live, work and learn
We have committed £8million of funding for our Covid Recovery Programme, in response to business and employment challenges, as well as the mental health and wellbeing needs following the pandemic.

 

We have continued to support our schools, providing an extra £1m of funding during the pandemic. 98% of our schools are rated 'good' or 'outstanding' by Ofsted and we have made sure every child in the borough, had a digital device and access to the internet to support on-line learning.
We have transformed how we work with local businesses and with new and established business forums. Over £105m has been given to businesses through schemes, such as business rates grants, the Local Restrictions Support Scheme and the Council's own Business Interruption Fund, to help them through the impacts of Covid-19.

 

The Council's New Homes Programme delivery has started with four schemes starting in 2021 to deliver 98 homes, including 50 for social rent, and completions are forecast during 2022 and 2023. 

 

We will have invested £290million through our capital programme in our local streets, schools and homes over 2019-2022.
We have continued to work with partners and the community to develop the New Local Plan and we have worked and consulted on design codes for developments at Latimer Road and Lots Road.

 
Safeguarding and supporting vulnerable residents
During the pandemic we have increased our support to those who are most vulnerable, protecting our care homes and setting up the support hub for our clinically vulnerable residents.
We provided extra support to our vulnerable families, including access to devices for education, wellbeing check-ins with tenants and coordinating with our voluntary and community partners to provide mental health services, and setting up local testing sites.

 

We have opened 2 Schools, including the building of the new Barlby and Kensington Queensmill school for children with autism and learning difficulties in North Kensington.
Over 275,000 first, second and booster covid vaccination doses have been administered in the borough. We were one of the first councils in the country to partner with the NHS, directly contacting our residents to support access, supporting the set-up of vaccine pop-up sites, resident Q&A sessions, online events and accessible literature.
Healthy, clean, safe and sustainable
The Council has committed to being carbon neutral by 2030, with £10m of initial funding committed as part of the Green Plan, £8m for greening our schools and £6m to be spent on some of our Council sites. We will also seek to make sure our buildings are as green as possible, looking as a first step to invest £100m in our housing estates.
We have commenced this work by introducing our own use of electric vehicles, LED streetlights and the lowering of our carbon emissions.

 

We put in place new measures to protect our streets and environment, including new wardens, CCTV, single borough virtual parking permits and noise cameras.

 

We have delivered new active travel arrangements, with reduced speed limits, participating fully in the London e-scooter trial and introducing School Streets.
A new waste collection and street cleansing contract has been procured which delivers an enhanced specification with value for money, maintaining twice-weekly waste collections, throughout the pandemic.
A place of culture to visit and explore
Delivery of our Culture Plan for 2021-22 has supported an adapted digital Notting Hill Carnival offer in 2021, Carnival Culture in the Park events, the Summer of Love Campaign which brought visitors back to the borough and the K&C Arts Festival, with over 30,000 people engaging in-person.

 

Business Improvement Districts are being developed in partnership with local firms and the initiatives have secured an extra £16m in funding for local businesses to spend on improvements and high street revitalisation, with three 'yes' ballots to date including one for Kensington High Street.

 

The new Markets Plan 2021-2026 has been developed together, with traders, businesses, residents and the community to increase the number of trading sites in the borough and we have supported 160 traders with grants to mitigate the financial impact of Covid Restrictions during the pandemic.

 

We are making al fresco licenses available permanently through the summer to support our local economy, creating vibrant and attractive outdoor spaces and we have continued to invest in our parks, in recognition of their importance during the pandemic and following consultation.